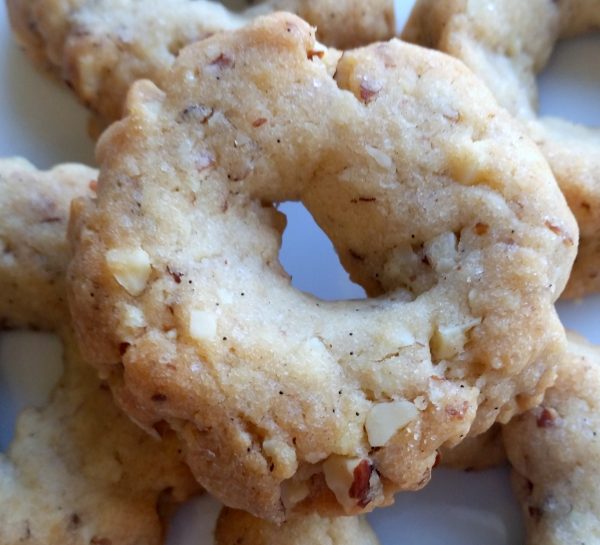 140

g

chopped toasted almonds

(Or almond meal/flour, if you are not into the rustic)

250

g

wheat flour

1

egg

150

g

salted butter

room temperature

125

g

sugar

½

vanilla pod

all of it
140

g

chopped toasted almonds

(Or almond meal/flour, if you are not into the rustic)

250

g

wheat flour

1

egg

150

g

salted butter

room temperature

125

g

sugar

½

vanilla pod

all of it
The almonds are roasted in the oven at 150 ° C for about 10 minutes. Place them on baking paper on a cookie sheet. Watch them - when they are golden they are done. Cool them down and chop finely. It is important that the almonds are cool before they are added to the dough. Otherwise, the dough gets too soft to work with.

Blend the vanilla pod with a little sugar until you have fine homemade vanilla sugar. Mix vanilla sugar with the rest of the sugar.

Flour, eggs, butter, vanilla sugar and almonds are mixed well, until the dough no longer sticks to the hands. If the almonds have been too hot when added to the dough, and the dough is too soft to work with, put the dough in the refrigerator until it is firmer.

Roll the dough into a thick sausage shape. Cut the dough into small pieces, roll them and make small wreaths with a large hole in.

If you want classic looking vanilla wreaths you have to use a special tool for you meatgrinder.

Bake the vanilla wreaths light golden brown at 160 ° C hot fan oven for about 15 minutes, watch them.

Store the cookies in an airtight container.