New Year is equal to KRANSEKAGE – marzipan wreath cake
The kransekage (literally wreath cake) – is a cake the Danes bake (or buy) for special occasions such as New Year's Eve, weddings, graduation, birthdays and other celebrations.
I bake a large kransekage – marzipan wreath cake once a year for New Year's Eve
– the rest of the year, I make bite-size cakes.
You can go straight to the recipe or read the rest.
Opskrift på dansk her.
Kransekage – marzipan wreath cake
You make the classic Danish wreath cake with marzipan made with almond flour, neutral sugar syrup and maybe rosewater.
The Norwegian recipe is with homemade marzipan using a mix of scalded almonds and almonds with the skin.
The Norwegian version tastes good – like a lovely almond cake, and it is darker and denser than the Danish version.
A classic Danish kransekage is light brown on the outside and soft in the middle.
Use GOOD marzipan with more than 60% almonds, kransekage is a special cake, and it takes time to make.
Therefore, always use good ingredients – you CAN taste the difference.
Use pasteurised egg whites
There is no salmonella in Danish eggs anymore.
But if you live in a country that can't guarantee that – use pasteurised egg whites.
There are two reasons for that:
The first reason.
10+ years ago, in Denmark, there was a biscuit cake accident.
A father and his son died eating a cake made with ordinary raw eggs.
And I DON'T want anyone's life on my conscience.
Therefore, I recommend that you ALWAYS use pasteurised eggs for dishes that you do not cook.
Of course, it is your choice.
The second reason is that it is much easier to buy egg whites or egg yolks for cake/dessert recipes.
Weight/volume is ALWAYS the same, so the result should be the same EVERY time.

You can use special ring moulds for this cake – to make perfect rings, but I'm not too fond of those.
My cakes get burned or get stuck in the mould.
The method I'll tell you about is easy – and all you have to do is measure the pieces and form rings.
Of course, you don't get perfect rings unless you are a pro.
It is a homemade cake – and it looks good when you've decorated it.
I've made kransekage – marzipan wreath cake for MANY years.
I usually make the traditional cake tower for New Year's Eve, but I've also made a few cornucopias and a kransekage clock.
This photo is VERY OLD – please don't judge my lacking skills…
(There are chocolate flowers, liquorice meringue and raspberry meringue on the plate)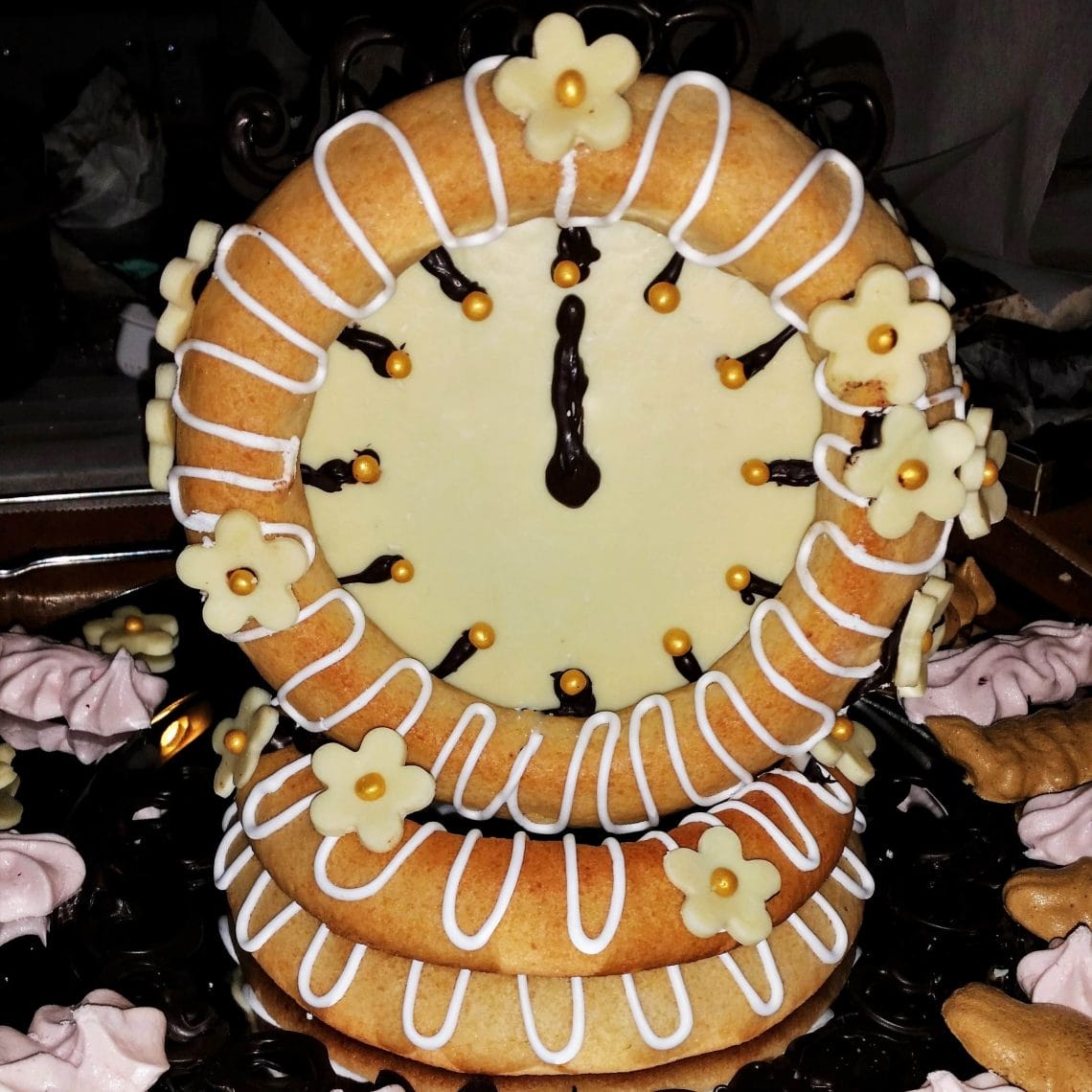 This year I will make a traditional tower and decorate it with either white flowers made of modelling chocolate or meringue – and I always make bite-size almond cakes on the side.
If you make kransekage – marzipan wreath cake, please share photos of your cake creations on Instagram @danish.things or #danishthings
Christina made this beautiful wedding kransekage for her son's wedding.
The whole family gave me permission to share their lovely pictures, and this is the first.
Marzipan wreath cake – Danish kransekage
© Christel Parby danishthings.com
Make a classic Danish kransekage – a marzipan wreath cake – for New Year's Eve, weddings, birthdays and other celebrations.
10-18 persons
If kransekage is the only cake, it is perfect for 10 persons – if your guests have had a large dinner or you serve other cakes, there is kransekage for 18 persons.
You can make smaller or larger batches of kransekage.
Ingredients
Kransekage – marzipan wreath cake
50 g pasteurised egg whites (3 tablespoons + 1 teaspoon)
200 g light cane sugar/caster sugar (1 US cup) or confectioner's sugar/powdered sugar/icing sugar (1.5 US cups + 1.5 tablespoons)
800 g homemade marzipan or good store-bought marzipan with 60% almonds or more (3.525 US cups)
Royal icing
100 g confectioner's sugar/powdered sugar/icing sugar (0.5 US cup + 5 tablespoons)
20-30 g pasteurized egg white (1 tablespoon + 1 teaspoon to 2 tablespoons)
Decorations
Use decorations that fit your theme (see notes)
Instructions
Mix
Mix the egg whites and sugar; you want to dissolve the sugar.
You can do that two ways:
Let it rest in the refrigerator for at least one hour – or until the next day.
Or you can use a mini blender and blend it until the sugar is dissolved.
Make the dough
Use a stand mixer with a K paddle.
Mix sugar and egg whites until it's white – you don't get stiff peaks like a classic meringue.
Add marzipan – a little at a time.
Mix until the dough is smooth and even.
Put the finished dough in a plastic bag.
Refrigerate it for at least 2 hours – or save it for the next day.
Mesure
Make equal sized round sticks of kransekage dough – about 2 ½ cm (1 inch) in diameter.
Each bar or stick is lightly pressed on the side facing toward you so that the bar becomes a slightly rounded triangle.
Make your rings with the same interval to get a pretty cake.
The kransekage tower with the blue and white stars has an interval of 2 cm = 0.79 inches.
Here I start with 6 cm (2.36 inches) for the small cone top, 8 cm (3.15 inches) for the first ring, 10 cm (3.94 inches), 12 cm (4.72 inches), 14 cm (5.51 inches), 16 cm (6.30 inches), 18 cm (7.09 inches), 20 cm (7.87 inches)…
You can also make it with 4 cm (1.57 inches) intervals – again start with 6 cm (2.36 inches) for the small cone top, 8 cm (3.15 inches) for the first ring, 12 cm (4.72 inches), 16 cm (6.30 inches), 20 cm (7.87 inches) and so on.
Then you get a wider not so tall tower.
Make rings
Transfer the dough sticks to a baking sheet lined with baking paper using a palette knife.
Make rings – remember to make an upwards pointing triangle.
Try to smooth the surface of the cake rings; use a very tiny bit of water on your fingers. Be careful – you don't want a wet dough.
To make a nice tower, you have to level the top of the rings.
To flatten the top a bit, place a piece of baking paper on the rings, place a baking sheet lightly on top of that and press just a little.
Remove the baking sheet and paper again.
Bake
Bake the rings/wreaths at 200°C (390°F) until golden, about 14-20 minutes. Double up two large baking sheets for extra insulation.
Be careful not to overbake your kransekage – it should be golden outside and moist in the middle.
If you underbake it, your tower might collapse.
Don't move the larger rings from your baking tray until they are cooled – you risk that the wreaths will break.
Royal icing
Use a hand mixer.
Mix the confectioner's sugar with the smallest amount of pasteurised egg whites at high speed for at least 5 minutes.
The icing should be thick and hold its shape.
Add more egg whites or sugar if needed.
Put the royal icing in a small cornet (a triangular piece of wax paper/baking paper, folded into a cone). Alternatively, you can use a freezer bag, cut a tiny hole in one corner and hold the bag tightly.
Select the serving dish the cake is served on and place the largest ring first.
Decorate
Move the tip of your cornet back and forth across the rings, go over the edge to allow the icing to drop down the outside in a loop style zig-zag stripe.
Start your decoration on the largest baked, cooled ring. Then, put the second-largest baked ring on top and repeat.
Repeat the decoration on all the circles until you get to the smallest ring, and then you decorate the top.
Let the finished cake dry for a few hours at room temperature or colder.
If you want to make the kransekage in advance, cover the cake with plastic and place it in a cold room or a fridge.
Decorate your kransekage festive.
Recipe notes
You can decorate the cake with chocolate doodles, flowers made of modelling chocolate, use sugar decorations, candles, miniature flags, bunting, fairy lighting, New Year's crackers, serpentines, (edible) flowers…
If you decorate your cake rings while they are slightly warm, the royal icing dries faster.
The rings can be decorated individually and assembled with melted chocolate.
You can make smaller kransekager – bite-size almond cakes or petit fours.
Form bars about 5 cm (2 inches) long or round little cakes.
Bake them at 200°C (390°F) until golden, about 5-10 minutes, depending on the size.
You can dip the bottom of the kransekage in (dark) chocolate.
Store leftover kransekage in an airtight container.
You can freeze kransekage – without the decoration.