How to remove labels easily from jars and bottles
Do you recognize yourself?
You've bought a product in a jar – or in a glass bottle.
You've already eaten the product, but the jar is so beautiful, a patent jar, has a good lid, a nice shape, the right size for …
– but unfortunately, it has glue and/or label residue that just sticks!!!
So it's useless… 🙁
Not anymore.
You only need 2 ingredients
And some tools.
In the video, I use Italian baking soda.
I brought it home from a vacation because they do not sell 500 g packs in my local supermarkets 🙁
But it is just normal baking soda in a large box.
You can choose whatever oil you want to.
I have tried everything from inexpensive rapeseed oil – to expensive olive oil.
All oils work if the ratio is 1:1.
You need:
Oil

Baking soda

A measuring spoon

A bowl (to hold the label remover)

A brush (or similar to apply the remover)

A chopping board – or something else, to rest the covered jars/bottles on

A sponge or pot scourer
In the video, I use 1 tbsp. olive oil and 1 tbsp. baking soda. It is enough for 3-4 jars, like the ones you see.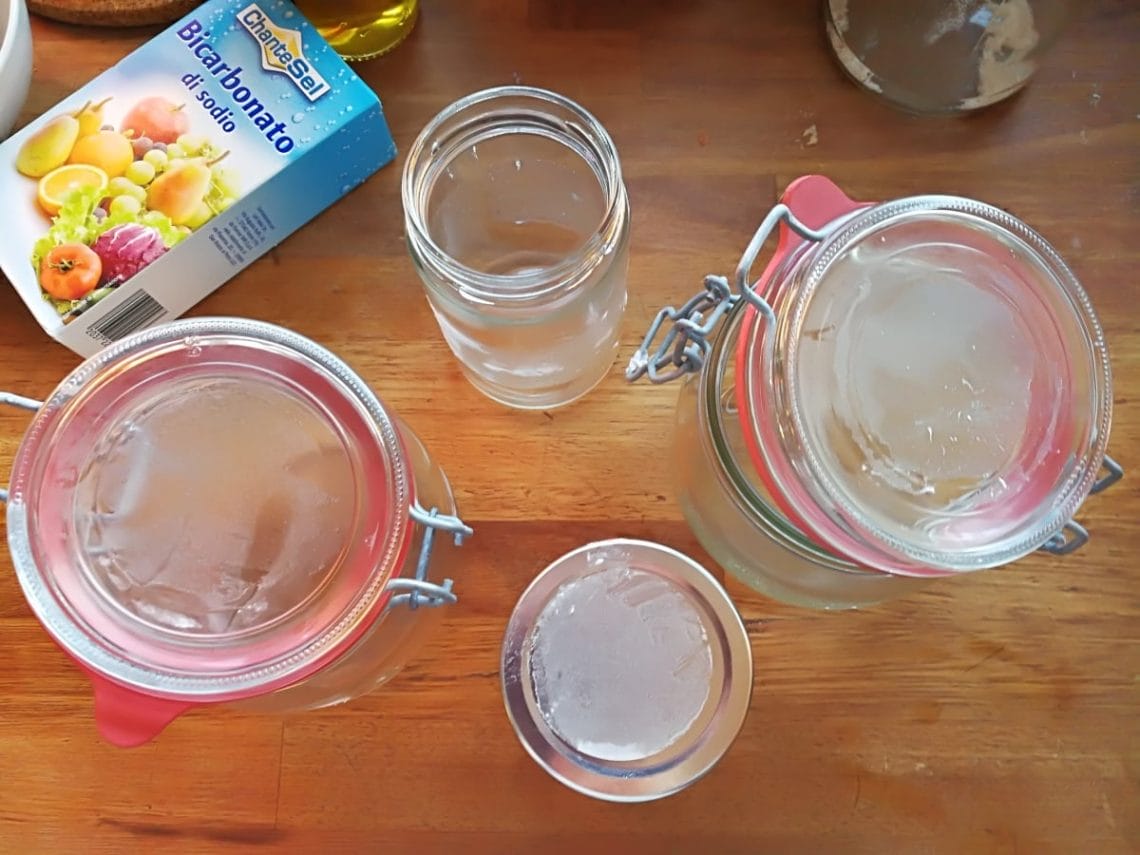 I always wash the jars/bottles first.
Just to make them clean.
Sometimes it is in the dishwasher –
I ALWAYS clean my dishwasher filter AFTER!
The adhesive from the labels may stop the filter in the dishwasher and destroy it.
I don't want any broken dishwashers on my conscience.
So, I recommend that you do this instead:
Fill your jars/bottles with water and put the lid on.

Put them in a tub/bucket/large bowl that is big enough to cover the labels.

Fill it with hot water and some soap or detergent.

Let the jars/bottles soak until the labels are drenched – and if you are lucky the labels will fall right off.

When the labels are gone, clean the jars/bottle in the dishwasher.
If you want to, wash the jars/bottles by hand and let them soak in the dishwater.
Most of the label goes off – if I remember to check the jars when the paper is still wet. Sometimes I'm lucky and most of the glue disappears as well.
Of course, it's easier to remove glue than the residue of a label.
It definitely helps, if you have soaked your jars first.
If there is a lot of label residue, I add the label remover several times.
To SOAK the label in the label remover.
The label remover works – as you can see in the video – If you give the label remover time to work, you can remove labels and adhesive quite easily.
Where I live I can't always buy the right size empty jars or bottles.
I need different sizes for my poached plums, rhubarb compote and -syrup, plum schnapps, vanilla extract, pickled pumpkin …
But I can always buy filled jars, with a good content, which I can enjoy first.
It might be a little nerdy, but for me, there is a certain satisfaction in recycling a beautiful jar and fill it with homemade delights,
These recycled jars end bottles are also ideal for small gifts like candies, roasted almonds, meringue, cookies, "gløgg" syrup, ginger shots or a homemade apple jam.
Before it annoyed me infinitely, that I couldn't get the last glue and label residue off a completely PERFECT JAR.
Not anymore.
Now I can fill my delights in a jar or bottle, put new labels on and know that I can remove the labels again.
Quite easy 🙂