Find den danske version her.
December 3. – Danish Christmas cookie – honey cake
Today I will share a recipe for one of our Danish Christmas classics – Honey cake.
This recipe is for honey cakes cut into shapes. I think that it is just like gingerbread cookies and you can use the same ingredients or try the Danish version.
I've tried A LOT of recipes for honey cakes – some of them takes MONTHS to prepare. The one I tried last year was NOT worth all the work. But I might try another next year.
This recipe is one of two that I will share with you and it only takes 2 days.
When making royal icing – egg whites and sugar – it is hard to add flavour without making the icing runny. I don't like the taste of powdered sugar I think that it tastes way too sweet – in a strange artificial way. And it doesn't do anything for the taste – it just looks pretty. So I have a twist to my royal icing – I put a little citric acid in.
Christian likes to experiment with normal icing. He likes a jam and sugar mix and an elderflower syrup and sugar combo. The last one gives the best icing – the first one is too lumpy. 😀
Which flavours do you like? Do you have any tips for great tasting combinations?
I recommend that you save a part of the dough for later. You can use it as decoration in one of the recipes to come – if you want to.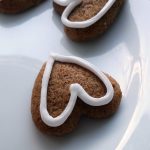 Danish Christmas cookie - honey cake - takes 2 days
Print Recipe
Facebook
Pinterest
Twitter
Ingredients
Wet:
1

small

egg

100

g

Muscovado

or brown sugar

125

g

real honey
Dry:
250

g

flour

1

tsp

baking soda

1½-2

tsp

honey cake spice mix*

or gingerbread spices
Royal icing:
1

pasteurized egg white

Powdered sugar

0-¼

tsp

Citric acid

food coloring,

gel, powder or liquid

sugar decorations
Instructions
Day 1:
Melt the honey in the microwave for 30 sec or melt it in a pot.

Beat eggs and sugar until fluffy, stir in the melted honey.

Mix flour, spices and baking soda in a bowl, add the egg mix, stir it with a spoon.

Place the dough in a plastic bag and store it in the refrigerator for the next day.
Day 2:
Turn the oven on - 160 ° C. Put a baking tray in the middle of the oven.

Put the dough on a piece of baking paper, with another piece on top so the dough does not stick to the rolling pin - or, you can put a little flour on the table and over the dough.

Remember that too much flour changes the texture and flavour of the cakes.

Roll out the dough to a thickness of 3-4 mm.

Use cutters of various shapes and cut as many cakes as you can.

Place the cookies on a baking sheet make sure the cookies are the same size - so small cakes on one baking sheet and large on another.

Gather the rest of the dough and continue the rolling and cutting out. If the dough becomes too warm and difficult to work with, place it in the refrigerator. Or gather the rest of the dough, make a roll which can be sliced ​​and baked another day.

Bake the cookies in the middle of the oven for 6-8 minutes, watch them. The cookies are quite soft when you take them out of the oven.
Royal icing:
Stir a lump-free icing with the egg white and powdered sugar (+ a little citric acid).

You can divide the icing into smaller portions and colour it.

Fill the icing in a cornet of baking paper or use a small freezer bag and cut the corner off.

Decorate the cookies with icing and sugar decorations.
Storing:
Store the cakes in an airtight container.
Notes
*The Danish honey cake spice mix:
2 tsp. cinnamon
2 tsp. dried orange peel
1 tsp. ground cloves
1 tsp. ground ginger
1 tsp. ground allspice
---
Bruger du US Customary, vær opmærksom på, at opskriften er lavet metrisk, og omregnet via et plugin.
---
If you use US Customary, remember that the recipe is made using Metric and converted via a plugin.
---
---