Blanched, baked and flour/meal – almonds
Almonds – I love them – blanched, baked and as flour/meal for cakes and desserts.
You can make your own treats and use the almonds as ingredients in your cooking.
Use the amount of almonds that fit your recipe.
Blanched almonds
Blanched almonds are a nice ingredient to have in the cupboard.
The pale almonds are pretty on top of desserts, on pies, in salads and we use them to make almond flour/meal for marzipan, macarons, pie dough and other delights.
In Denmark we use blanched almonds for our Christmas pudding: Ris a la mande – a rice pudding with vanilla whipped cream and blanched almonds, served with a sweet cherry sauce.
Blanched almonds
Put your almonds in a heatproof bowl.

Cover them with boiling water and allow the almonds to soak for 5-10 minutes.

Place the almonds in a strainer and run them in cold water to cool them down – so you don't burn your fingers.

Remove the skin of each almond with your fingers – the skin should come right off.
If you can't remove the skin from some almonds, soak them again in boiling water.
Baked almonds
I use baked almonds in marzipan recipes, on salads and soups or as a delicious snack.
When you bake your almonds the flavour is highlighted in a really good way.
Baked almonds
Turn your oven on, 150°C fan oven, 300°F fan oven.

Spread the almonds in one layer on a baking sheet/tray lined with baking paper.

Bake the almonds for 10-20 minutes until golden. Keep an eye on your almonds, check them after 10 minutes, and stir them to distribute the heat.

Blanched almonds – give them 10-15 minutes if you want them pale.
Whole almonds with skin – give them 15-20 minutes if you want them to be light brown throughout.
Make a large batch of baked whole almonds with skin – they are REALLY GOOD.
– and a healthy snack.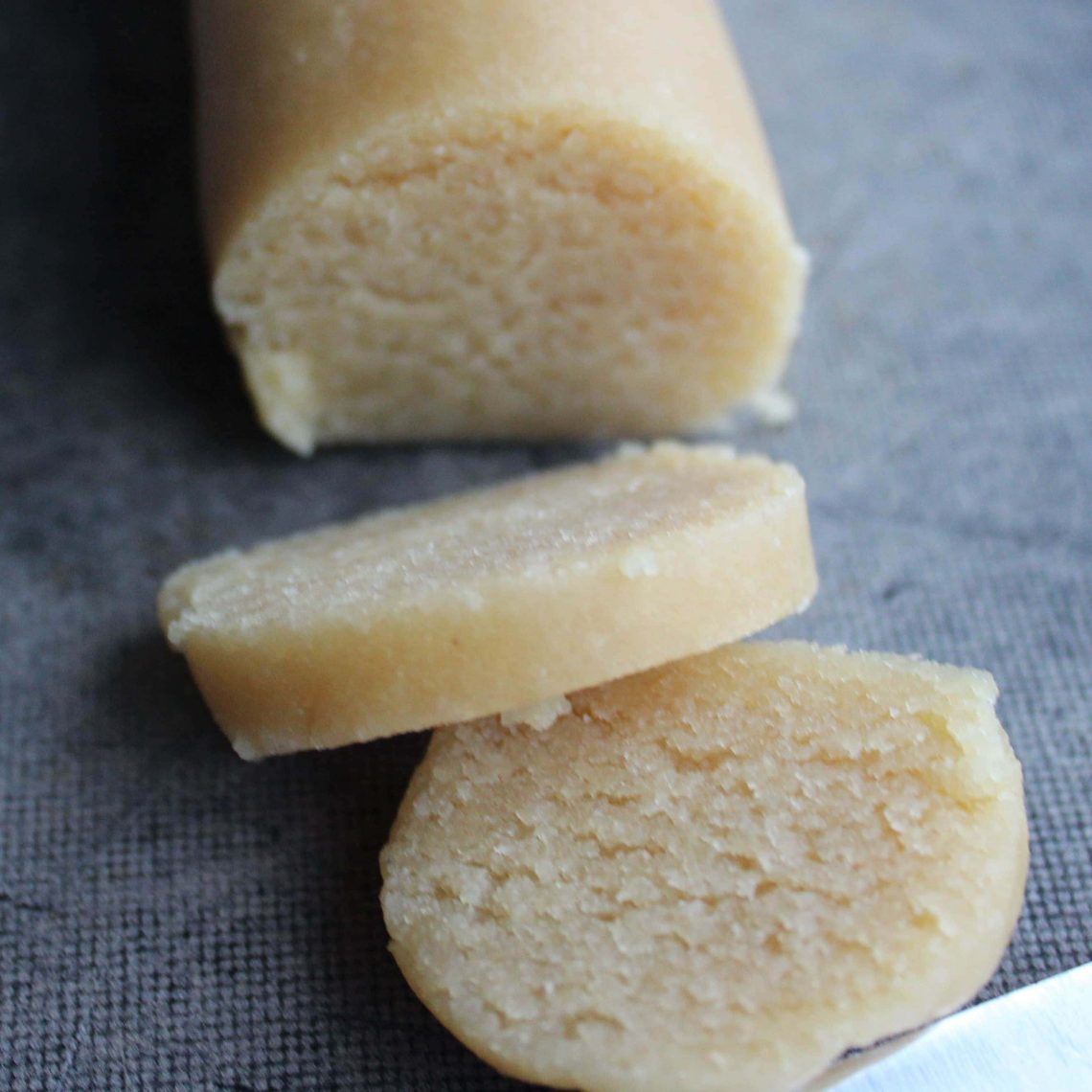 Almond flour/meal
If you want to make a Danish kransekage -marzipan wreath cake, Napoleon's hat, Wales buns or confectionery, tarts, pies, desserts…
Or any other dessert using marzipan or almond flour/meal – make it yourself.
It is easy and cheaper.
Almond flour/meal
Place your baked almonds in a mini chopper or food processor and pulse to break them down.

Process them as fine as possible – but be careful not to pulse them to long or you will end up with almond butter.

You can sift the almond flour to remove any larger chunks and redo those.

Store your almond flour/meal in an airtight container.
If you don't want to blanch your own almonds – buy the ready blanched, bake them and use those in your almond flour/meal
In some recipes, it is ok to use almond meal made using baked almonds with the skin on.