December 5.
I've been looking forward to presenting this recipe – it's one of my Christmas favourites AND it is SO incredibly easy to make.
You just weigh, heat, blend, stir, bake and decorate.
The hardest part is to choose how many and what kind of cake/cookie to bake…
This recipe is for my mother – she doesn't like the taste of honey or honey cakes – but she likes this one because it has the citrus flavours.
It is a classic Danish honey cake – just softer than the honey Christmas cookie that takes 2 days.
In Denmark, we eat the honey cakes decorated with dark chocolate, or filled with apricot jam and a buttercream – covered in dark chocolate.
Sometimes we just put on some icing.
If you want to make a fluffy icing – beat egg whites and sugar.
Royal icing is just egg whites and sugar, and that's the same as French meringue – so I tried to whip the icing with some added citric acid for flavour.
The cakes taste so good covered in dark chocolate, with a filling of apricot jam and buttercream or with the royal icing.
Which one is your favourite?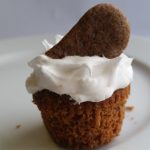 2 in one Gingerbread cakes - cupcakes and honey bombs
Print Recipe
Facebook
Pinterest
Twitter
Ingredienser - Ingredients
Dry
1

tbsp

honey cake spice mix*

or gingerbread spices

250

g

flour

½

tbsp

baking soda
Wet
70

g

real honey

80

g

Muscovado or brown sugar

100

g

salted butter

70

g

raisins

1

tbsp

zest of 1 organic orange

80

g

juice of ½ organic orange

and a little orange flesh

50

g

whipping cream

2

eggs

m/l
Icing
100

g

Powdered sugar

organic orange juice or

egg whites and a little Citric acid
Buttercream
50

g

soft salted butter

50

g

Powdered sugar
Instructions
Melt the honey, sugar / brown sugar and butter in the microwave 30-60 seconds. or melt it in a pot.

The sugar does not have to be completely melted, it will happen while the mixture cools down to room temperature.

Mix spices and wheat flour with baking soda in a bowl.

Blend the raisins, orange zest and orange juice with cream.

Add the honey/sugar/butter and blend again.

Finally, add the eggs.

Stir the wet into the dry with a spoon.

Stir the batter well, place in a freezer bag or piping bag, that makes it easier to control the honey cake batter.

Put the batter in mini muffin tins or form round gingerbread cakes on baking paper.

Bake the cakes for about 12 minutes at 160 C fan oven - 180 C conventional oven.
Version 1 - chocolate coating
Melt the dark chocolate and cover the cakes.
Version 2 - buttercream
Beat butter and sugar until it is completely white and fluffy - it takes 3-4 minutes. Take two cakes, put apricot jam and buttercream on one and the other on top. Cover the honey bombs with dark chocolate.
Version 3 - Icing
Stir icing sugar with orange juice to desired consistency or make a royal icing flavour it with citric acid.

Store in an airtight container in a cool place.

Refrigerate if you use buttercream and take the cakes out half an hour before serving.
Notes
*The Danish honey cake spice mix:
2 tsp. cinnamon
2 tsp. dried orange peel
1 tsp. ground cloves
1 tsp. ground ginger
1 tsp. ground allspice
---
Egne notater - private notes
---
Bruger du US Customary, vær opmærksom på, at opskriften er lavet metrisk, og omregnet via et plugin.
---
If you use US Customary, remember that the recipe is made using Metric and converted via a plugin.
---